Our calendula plants are spotted around the garden everywhere, providing bright orange flowers which add to garden colours, but calendula also offer more than just bright coloured flowers. Calendula also help to attract pollinators, the root offers benefit to the soil by making a relationship with the soil fungi and help repel pests from other plants. They also are a medicinal herb and can be made into a tea or oil, they also can be used in a salad as they are full of nutrition.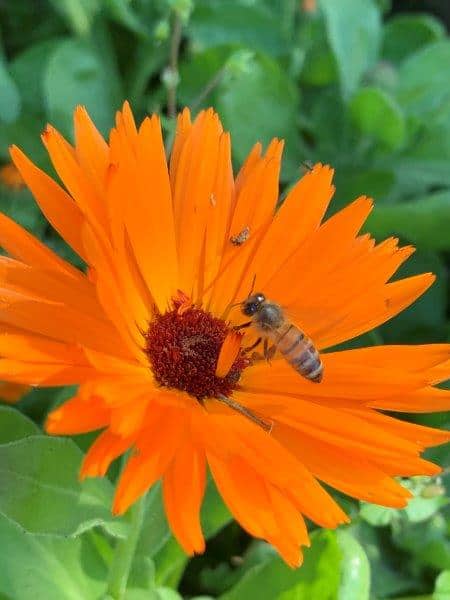 We find that our calendulas flower just about all year round offering us colour in the garden through the heat of summer and the coolness of winter. Most of our calendulas are left to flower, die off and drop the seed to self-seed, this creates a never-ending supply of calendula that we don't have to do much with, it's a win win.
How to Sow your Calendula Seeds
Calendula seeds can be just direct sown into a garden bed, however we have found the best result with growing them in seed trays then transplanting. This is because you can control the environment. The ideal soil temperature for germination for the calendula seed is 20-22 degree Celsius and they take between 7-14 days to germinate. Even though we have self-seeded calendula growing, I still save some seed every year to grow some calendula in seedling trays, to guarantee that we are going to have some calendula growing.
Where to Plant your Calendula
Calendulas can just about be planted anywhere except full shade, they will grow in poor soils but as we know plants all do better and better for us when we give them some fresh compost, manure, organic slow release fertilser and a sprinkle of blood and bone. Don't forgot to cover the soil with mulch.
Caring for Calendula
Watch out for pests on calendula, as I said above, they help repel pest from other plants, but they come and eat the calendula instead, they are also known as a trap crop. Other than pest to make them flower for a longer period, prune dead flowers off just above the leave. In fact last autumn we planted a border of calendula next to the lawn and they are only just dying off now, which is 12 month later, every time I would whipper snip the border for our lawn I would use it to prune back our calendula. As brutal as it sounds it work well.
Common Problem with your Calendula
Believe it or not we haven't had many pests issue with our calendulas yet. Our only problems have been the common ones which are caterpillars, snails and slugs.
Caterpillars
In most cases we just remove of them and disposed of them humanely, but if you found you had uncontrollable amounts of caterpillars you can spray them a bacteria spray called baculllis thuringienisis.
Snails and slugs
Snails and slugs seem to be our biggest pest and it seems like there is a never ending supply of them, for the most we just pick them off and dispose of them. Here is how we control our snails and slugs.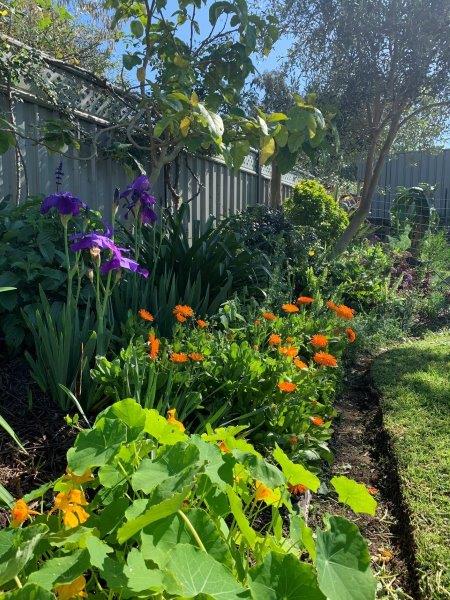 Here are some other pest and diseases you may come across, but we haven't yet.
Aphids
These are little sap sucking insects which you will find on new shoots or on the underside of leaves. To control them you can wash them off using your gardening hose, squish them with your fingers and if you're finding your struggling to control them like this, spray with a horticultural oil or potassium soap spray. Remember these sprays can still affect beneficial insects so only use them as a last resort.
Mites
These are sap sucking spiders which will cause the leaves to become dry, wilted and sand papery. Unfortunately, you will struggle to see them so the only way to control them is to prune back the plant and spray with horticultural oil or potassium soap spray.
Rust
This a fungal disease and the leaves will have orange rusty looking spots or patches on it. To prevent rust, water a soil level, allow good airflow in between plants and remove dead or diseased foliage.
Powdery Mildew
This another fungal disease, generally show ups with white spots on the leaves then eventually covering the whole plant. Powdery mildew is very hard to control, to stop it spreading, remove the diseased foliage and if the whole plant is infected remove it before it spreads. To prevent water at soil level and allow good airflow. There are a couple of sprays available for treating powdery mildew however we have tried it on many other plants before and never found it effective.