Canterbury Bells are biennial plant and very popular in cottage gardens, they feature an upright flower spike which produces amazing bell shaped flower. Canterbury bells are an easy plant to grow and will flower for 2 years then die.
Canterbury Bells belong to the campanula family, are a hardy plant, and the beneficial insects love them. It is a awesome site to see a bee going into a canterbury bell, watch it do its job inside the flower, then come out. We have found the blue banded bee, which are a native bee love them as well. We have them planted throughout our whole garden.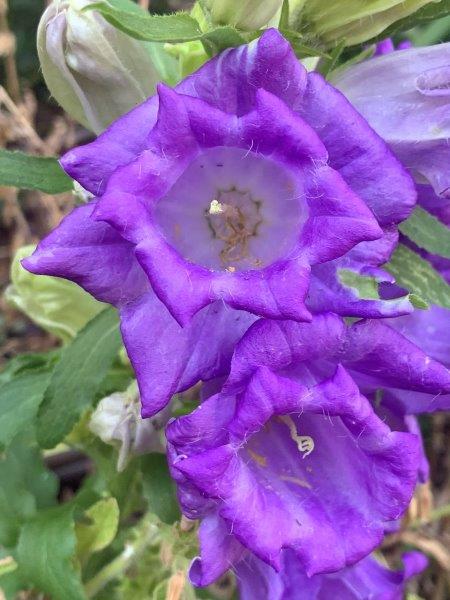 When to Plant Canterbury Bell Flowers
Canterbury Bells can be grown all year round, however we avoid plant or sowing our seeds in the middle of summer and winter as this can lead to poor germination and plants dying due to weather events such as a heat wave or frost.
How to Plant Canterbury Bell Seeds
We plant our canterbury bell seeds in late winter to early spring, they could also be planted late autumn. We plant our seeds into seedling trays, as we can control what goes on with soil temperature, pest and watering. Canterbury Bell seeds take between 14-21 days to germinate and germinate best when soil temperatures are between 18 to 22 degrees Celsius. We also have a lot of self-seeded canterbury bells.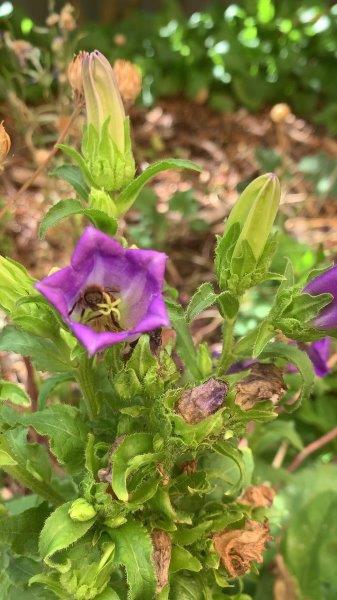 Where to Plant Canterbury Bells
Canterbury bells can be grown in full sun or part shade and have found they do well anywhere. They are a hungry plant, so we recommend in preparing the ground by adding some homemade compost, manure, slow release fertilser and mulch.
How to Transplant Canterbury Bells
We transplant our canterbury bells after they have between 4 to 5 leaves and are between 5 to 10 cm tall. We like to plant them with a 30cm spacing.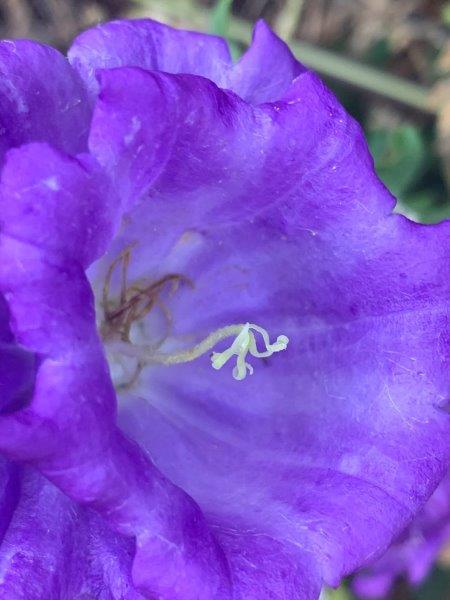 How Long do Canterbury Bell Bloom For?
Canterbury bells will start to bloom after 160 days and will continue to flower until the plant dies. Most canterbury bells will grow for 2 years.
How to Care for Canterbury Bells
Canterbury Bells require you to remove dead or fading flowers and remove any dead foliage. Because canterbury bells grow for 2 years you will need to every autumn and spring add some more homemade compost, manure, slow-release fertilizer and mulch.
Can I Save the Seed from my Canterbury Bells?
You can save the seed from your canterbury bells and its very easy. Allow the flower to die back and dry out. Once completely dried remove flower and crunch the flower up on a piece of paper to reveal the tiny seeds. You can also just crunch the flowers up over the garden allowing them to self-seed.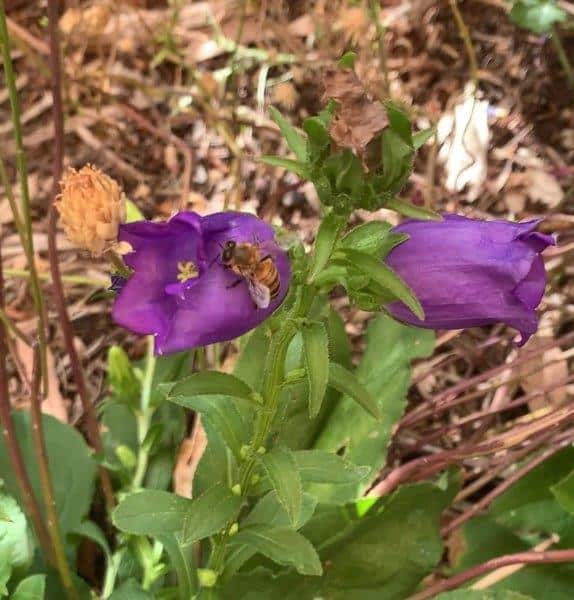 Common Problems with Canterbury Bells
While we haven't ran into any problems with our canterbury bells, there are various pests and diseases which can affect them.
Aphids
Aphids are a small sap sucking insect usually found on new tender shoots and underside of leaves. They can cause your plants to wilt or to become discoloured. To control aphids, inspect plants regularly and if found you can squash them, wash them off with a garden hose or if you have many plants infested with aphids you can spray them with a horticultural oil.
Snails and Slugs
So far we have found the snails and slugs have left the canterbury bells alone. Check plants regularly as snails and slugs can decimate a plant in a short amount of time. Remove and dispose of snails. If you're having a large problem with snails and slugs, here is how we control them.
Spider Mites
Spider mites are a tiny sap sucking spider which cause the leaves to become dry, wilted and discoloured. The leaves also may feel like sandpaper. To control spray plants with a horticultural oil.
Thrips
Thrips are a tiny flying sap sucking insect that suck the sap from leaves and petals. While normally not causing any major damage to the plant, they can leave marks on your flowers and transfer diseases from one plant to another. To control wash thrips from the affected plant or spray with a horticultural oil.
Rust
This is a fungal disease that cause orange rusty brown spots on leaves. This can be avoided by watering at ground level and allow plants to have correct spacing. Remove and dispose of the dead or diseased foliage.
Powdery Mildew
Powdery Mildew is a fungal disease that shows up as white spots on the leaves and can spread over the plant quickly. To prevent water plants at soil level, allow good airflow and correct plant spacing. Remove dead and diseased foliage. If the whole plant is affected remove, we haven't found any of organic treatments for powdery mildew to work.