Salvias are a must plant in your garden, they have a huge range of flower colour and different plant forms. Their flowers are nectar-rich that promote beneficial insects such as bees and butterflies. There seems to be endless flowers, after flowers all summer long. We have planted them amongst our vegetable patch, found it bought a great freshness in colour and found we had very limited pest problems in the garden this year.
There are various types of salvias which are broken down into 2 groups, annuals and perennials. Annuals need to be replanted every year and the perennials can be pruned back and will come back year after year. The salvia family is also known as sage.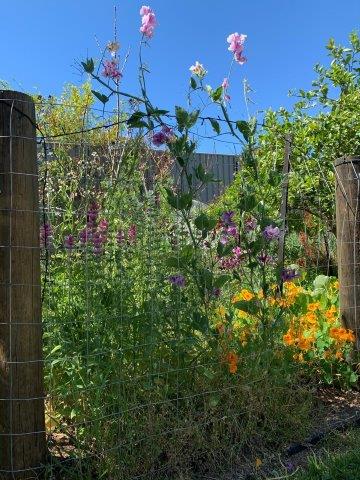 How to Start your Salvias
Salvias depending on the variety can be either grown from seed or cuttings. Seeds can be either direct sown into the ground or planted into seedlings. We prefer to plant into seedling as you have more control of the environment, as we like to sow our salvias seeds at the end of winter to have to plant out in early spring. You also can have more control over pests like slugs and snails who enjoy eating fresh tender seedlings. Salvias germinate best when soil temperatures are between 24-26 degrees celsius and take 5-12 days to germinate. We have grown the salvia horminum also known as annual clary with great success. After are salvias have finished flowering, we keep some of the seed for resowing into seedling trays but scatter the rest and allow them to self-seed.
To start your salvias from cuttings they need to be perennial salvias to take a cutting from. Take a cutting from 5- 20cm long, trim all the leaves off but the top few. Place in moist potting mix and put in a cool shady place. Best time to take cutting is the beginning of spring and end of autumn. You can also place a rooting hormone on the end of the cutting to help, though we don't do it.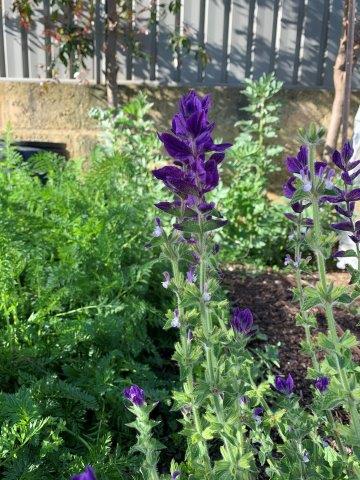 Where to plant your salvias
Salvias love the sun and can tolerate the heat but can also tolerate part shade. Salvias do better in a garden bed with well-prepared soil, they also seem to very well in a very sandy gutless parts of the garden. When planting our salvias out we like to add dig a hole about 20cm in size, add some fresh compost, manure, blood and bone and some organic slow release fertilser and mix this all together then plant into this. Then we top it off with mulch. If we are planting perennial salvias, we tend to make the hole larger and add a small amount of kaolin clay to help with water and nutrient retention.
Caring for your Salvias
Salvias are easy to grow and require very little maintenance. On annual salvias remove flowers once they have finished to extend there flowering season, you can also pinch the tips out early in the life to create more dense growth.
Perennial salvia will require dead flowers pruning back to extend their flowering season. We find we must prune the whole plant back at the beginning of spring and in autumn to control the size of the plant and to stop it from looking leggy. Don't forget you can propagate these from cutting. You will also need to add an organic slow release fertilser regular, frequency depends on what brand you use. When we prune the salvias back, we also like to add a bit of fresh compost, manure and compost when required.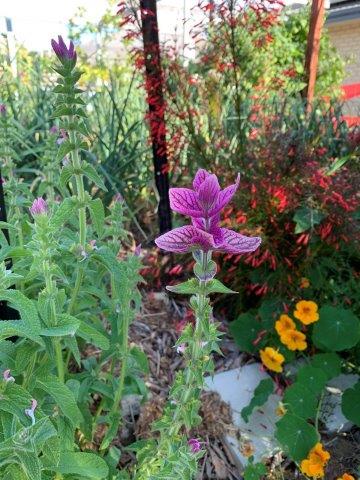 Common Problem with Salvias

Though we haven't had any real problem with our salvias other than slugs and snails loving them, like all plants they can have issue.
Slugs and Snails
Most time we just control these by removing them and disposing of them. Read here more about how we control slugs and snails.
Caterpillars
In most cases we control our caterpillars by removing them and disposing of them. If you caterpillars are out of control, you can use a spray called bacillus thuringienses. This is a bacterial spray which they will ingest, and it will paralyse their digestive system killing them.
Mites
There are various kind and salvia seem to be most affected by the spider mite or two spotted mites. Plants leaves will look like sandpaper and leaves will look dry as the mites are sucking them dry. Prune back and spray with a horticulture oil or potassium soap spray.
Aphids
Little sap sucking insect which you will find on new shoots or the underside of the leaves. Leaves will become wilted or discoloured, it is also common to find ants with aphids as they harvest the honeydew aphids excrete. Most time aphids if caught early can be controlled by spraying them off with a hose. If the whole plant is infested, spray with a horticultural oil or potassium soap spray.
Thrips
These are white, black and beige flying insects with larvae that suck from leaves and flowers, leaving behind a small white or clear marking. These don't normally create major damage, but they can leave marks on the flower and transfer diseases from one plant to another. To control wash, them off with a hose or spray with a horticulture oil or potassium soap spray.