Recently we were looking into new ways of using our parsnips and thought we would try parsnip tarte tatin. It isn't the hardest recipe to make but it takes a while as there a many little steps to making parsnip tarte tatin. We feel like this recipe is something we would make for special occasion.
Serves 6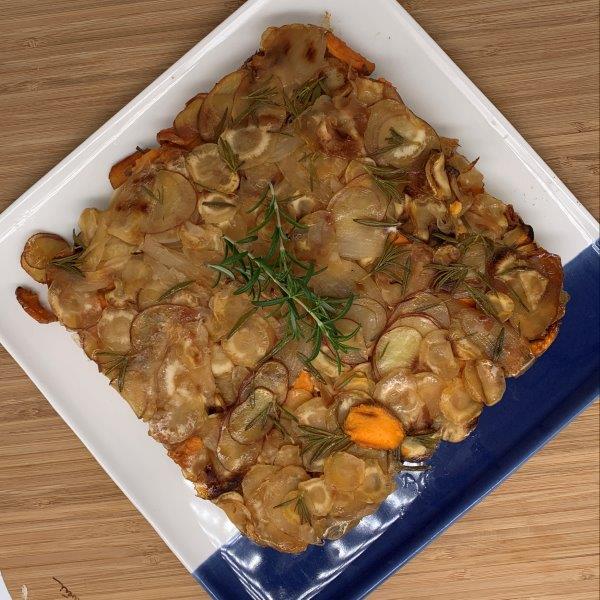 Ingredients
Topping
2 cups of parsnip thinly sliced
1 cup of potato thinly sliced
1 cup of sweet potato thinly sliced
2 onions thinly sliced
250 grams of goat cheese
Salt
Olive oil
Fresh rosemary
Caramel
2/3 of cup of sugar
4 Tablespoons of water
2 Tablespoons of white wine vinegar
Base
All Butter Pie Dough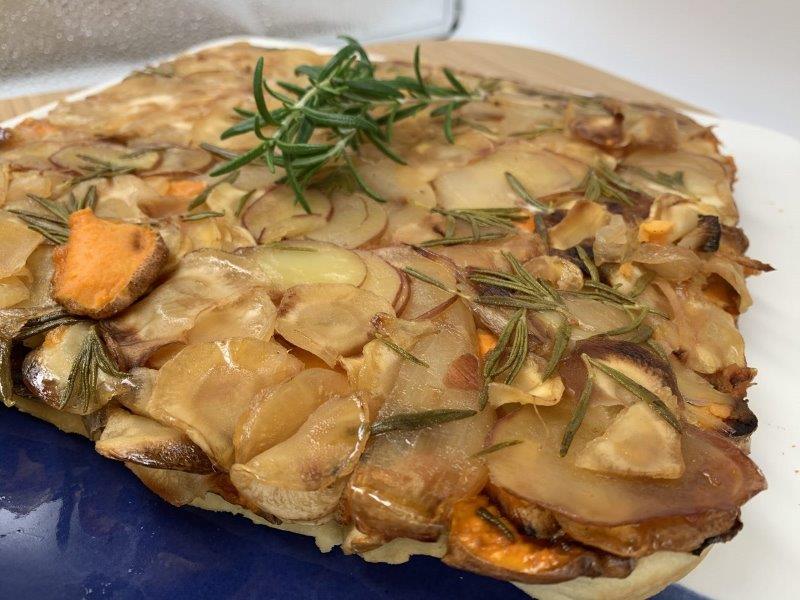 Method
Preheat oven to 200 degrees
Drizzle the parsnip, potato, sweet potato and onion in olive oil and season with salt.
Put vegetables in the oven to roast and cook until they become golden and crispy which took about 20 minutes. Remove from oven and allow to cool.
While vegetables are roasting in the oven, add to a small saucepan sugar and water. Place on a medium-high heat stirring or swirling to combine the sugar and water. Once the mixture turns an amber colour take off the heat and add vinegar and a pinch of salt.
Into a 25cm square pie dish pour the caramel and evenly coat the bottom of the pie dish. Scatter the fresh rosemary over the caramel.
Arrange the vegetables on top of the caramel and crumble the goat's cheese over the vegetables.
Roll out the dough to slightly bigger than the pie dish.
Place over the vegetables tucking the edges into the pan. Prick the dough with a fork or skewer.
Bake until dough is turn golden brown which took 1 hour in our oven
Let cool for 5 minute then invert onto a plate.
If your looking to grow parsnips here is how we grow them