Zucchini balls are filling, delicious and easy to make. Once you add a tomato sauce, you could be forgiven for thinking they are meatballs. They freeze well and are suitable for vegetarians.
PREP TIME:30 mins
COOK TIME:20 mins
TOTAL TIME:50 mins
Serves 4
Ingredients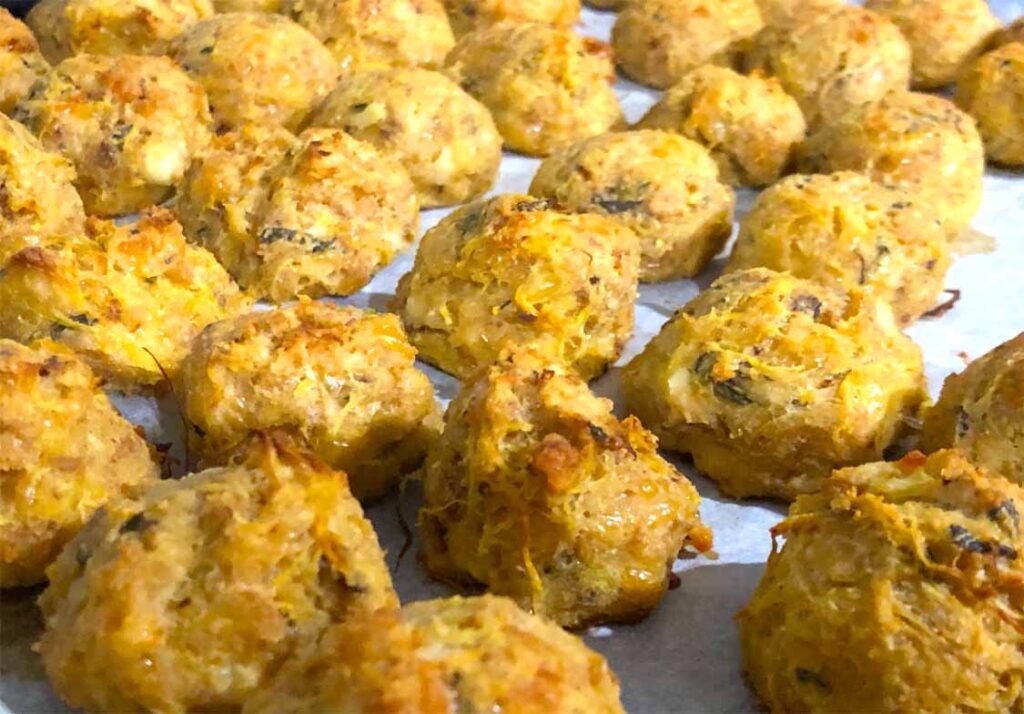 1 teaspoon olive oil plus spray oil
2 garlic cloves
550g zucchini
1/2 teaspoon of salt
3 tablespoon of chopped basil
1 cup of breadcrumbs
1 tablespoon of dried Italian herbs
1 egg
1/2 cup of grated Parmesan cheese
Instructions
Pre-heat your oven to 190°C. Line a large baking tray with baking paper
Peel and grate zucchini and garlic.
Heat olive oil in a large pan over medium heat. Add garlic and sauté until fragrant and golden.
Add grated zucchini and salt and cook over high heat until all water is evaporated, approximately 5 minutes.
Remove any remaining water from the zucchini and garlic by placing in a colander to drain and then set aside in a large bowl. Lightly beat the egg and add to zucchini and garlic along with bread crumbs, Italian herbs, Parmesan cheese and chopped basil. Mix thoroughly with a large spoon or clean hands.
Roll the zucchini mixture into 16 tight balls and transfer to the lined baking sheet. Lightly spray the tops with cooking oil and bake until firm and slightly browned, approximately 20 minutes.
We recommend serving with spaghetti, our five minute tomato sauce and finishing with grated Parmesan cheese
Note: If you don't have dried Italian herbs, you can use fresh herbs from the garden! We use a mix of basil, oregano and rosemary but fresh herbs are more powerful and you will only need half the amount.