This year at Backyard Gardening Australia we have set ourselves a goal which is to find different ways we can use the produce we have in our garden. Rhubarb is one of the plants that seem grow back quicker than we can eat it. We came across the idea of a persian lamb and rhubarb stew and have fallen in love with it. We cook it low and slow in the oven, but it could also be finished in a slow cooker on low settings instead after frying off the ingredients.
Serves 4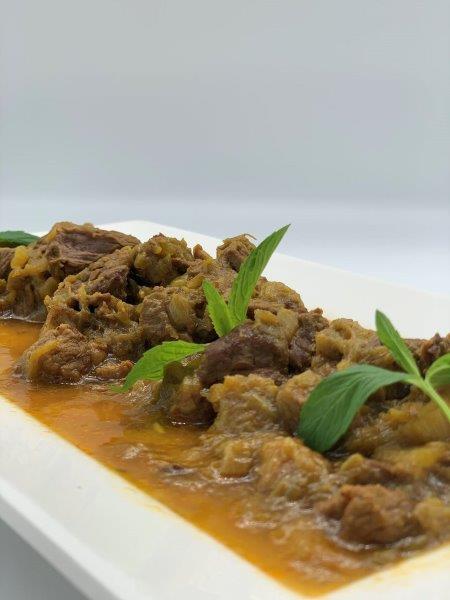 Ingredients
1 kg of cubed lamb
2 brown onions, diced
4 cloves of garlic, chopped finely
1/2 a teaspoon of ground cinnamon
1/2 of teaspoon of turmeric
1/4 teaspoon of saffron threads
1 1/2 cups of vegetable stock
2 cups of chicken stock
1 cup of water
3 cups of rhubarb, chopped
2 tablespoon of tomato paste
2 tablespoons of butter
Salt
Mint to serve
Method
Preheat oven to 120 degrees
Place a large, oven safe saucepan on medium high heat and melt one tablespoon of butter. Add lamb and cook until browned. Remove from pan and set aside.
In the same frying pan melt another tablespoon of butter and add garlic and onion. Cook until they go translucent and add cinnamon, saffron, turmeric, vegetable stock, chicken stock, water, tomato paste, lamb and rhubarb.
Bring to a simmer. Place in the oven and cook for about 6 hours or until lamb is so tender it falls apart.
Persian lamb and rhubarb stew is normally served with mint added, however we just serve it on the table as side for those who enjoy mint with their lamb. This stew is traditionally served with an olive and parsley cous cous, however we also enjoy it with simple mashed potato.
If you're looking to grow your own rhubarb here is how we grow our rhubarb