Enjoyed on a sandwich, or straight from the jar, there is no doubt that savoy cabbage sauerkraut is delicious. Using savoy cabbage brings a mild earthy flavor to your sauerkraut and is beautifully tender; however, this recipe will work with any type of cabbage. You will need a crock or fermenting jar. We use a glass Kilner Fermentation Jar with ceramic weights as we find it easy to use and clean. This is important as cleanliness and hygiene are paramount when fermenting.
Savoy cabbage sauerkraut is lacto-fermented, meaning it contains natural probiotics. In addition to being low in calories, it is high in vitamins and nutritious minerals. When grown in your own garden, you know you are using fresh produce and have control of what goes on and in the food, you are consuming.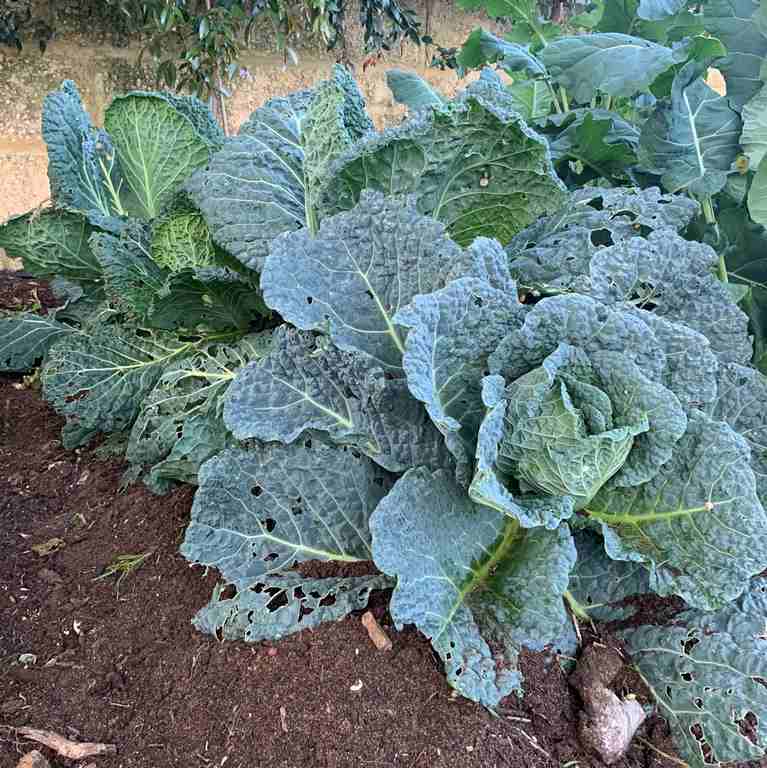 Ingredients
4kg savoy cabbage
80 gram of salt
Method
Chop cabbage finely and place cabbage in a large bowl and add salt. Mix salted cabbage well.
Add cabbage to fermentation crock or jar slowly. As you add each layer of cabbage, compress and pack down with a food tamper, pickle stick, or something similar. As you pound each layer bruising the cabbage, it will release liquid. This liquid should be sufficient to cover the cabbage leaving approximately 25mm of liquid above the cabbage.
Place weights on top of the cabbage. Remove any floating pieces of cabbage.
Monitor crock or jar daily for brine level and ensure the lid is firmly sealed. Also, check that the airlock had enough brine in it.
At the 3 week mark, taste the sauerkraut for your liking as the sourness will increase the longer it ferments. It is normal for your sauerkraut to grow white, blue, or green mold, which can simply be scooped off. If it smells bad or has black or pink mold, ditch it.
To stop the fermentation cycle, remove from crock or jar and refrigerate. Ensure there is enough brine to cover the sauerkraut.
After you have made your first batch of sauerkraut, you can adjust this recipe to suit yourself. For example, if it's too salty for your taste, add less salt, or you can step it up a notch by adding other fruit, vegetables, herbs, or spices. If your sauerkraut turns out too salty, giving it a quick rinse before eating to take the edge off.